My three favourite beaches in Curacao
Curacao is full of many small beaches, all with their own distinct and charming differences. A couple months ago, we made it our mission to explore every beach on the island. While I'm currently making a master list of beaches in Curacao, I wanted to share my three favourites that I believe every tourist needs to experience when they come to Curacao.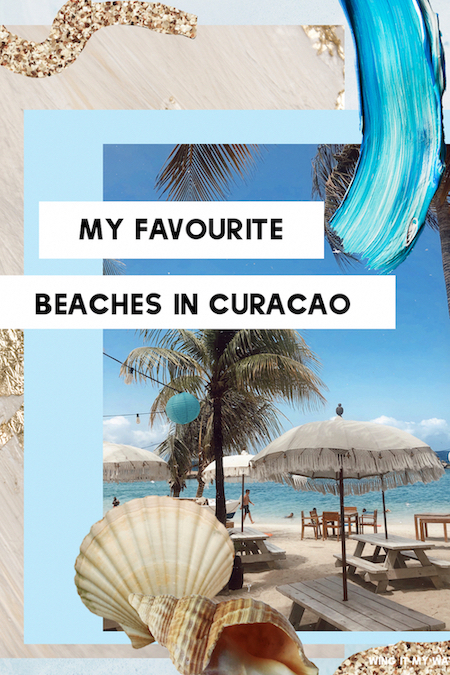 Grote Knip
I think this high rock cove holds some of the fondest memories for me, as it was one of the first beaches we drove to on our first trip to Curacao. The water here is SO BLUE it's hard to believe you're not walking in a painting. As far as picturesque goes, it's one of the most beautiful beaches on the island (in my humble opinion).
This beach tends to be more of a local hangout, as you don't have to pay to go there (aside from umbrellas and chairs) and because there's a local bus that drives there daily.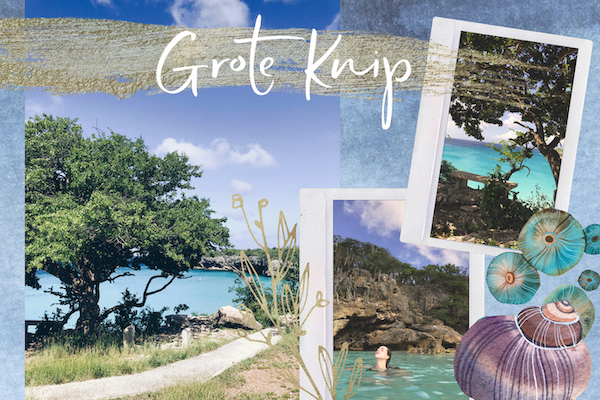 Cas Abao
This beach is probably my all time favourite. It has everything I like…soft white sand, a restaurant, a daiquiri bar, chairs and umbrellas, clear blue water perfect for snorkelling, the convenience of bathrooms, and a couple showers to rinse the salt water off. They even have a hut for massages right on the beach. While I'm not a diver, a lot of people like to come here for scuba diving, as well as renting paddle boards or kayaks.
I think a big reason why I love Cas Abao is because it feels very clean. There are a handful of beaches that don't feel this way, whether it be the water isn't as clear, the beach is more cluttered and rocky, or their restaurant feels questionable. The only drawback people might have is that you have to pay for beach entrance, as well as the chairs and umbrella rental. However, paying for chairs and umbrella rental is very normal at almost every beach.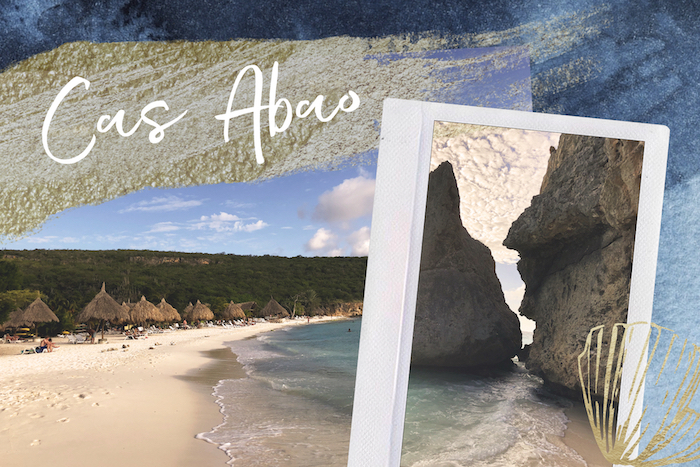 Moomba Beach
I affectionately call this place "Friekandel Beach" because, (a) I could never remember the name and (b) it has the best Friekandel Speciaal that I have had on the island.
Why I am in love with this beach is because it's a bit more of a luxe vibe and it's very near to where we live in Willemstaad. When we want a lazy beach afternoon and don't feel like driving this is where we come. We like to get chairs or a bed by the pool, intermittently run into the ocean, rinse off, and lie under our umbrellas while we tan (yes we tan in the shade – read more about it here!). There is pool side service for drinks and their restaurant, so I like to get a margarita and a poke bowl (highly recommend).
The morning is the nicest time to go as it is slower and quieter. When you go on the weekend or later in the day there is music playing and more of a high-energy "party" vibe. While that's fun too, I feel like that is nicer when you have a group of people going rather than when you just want to relax.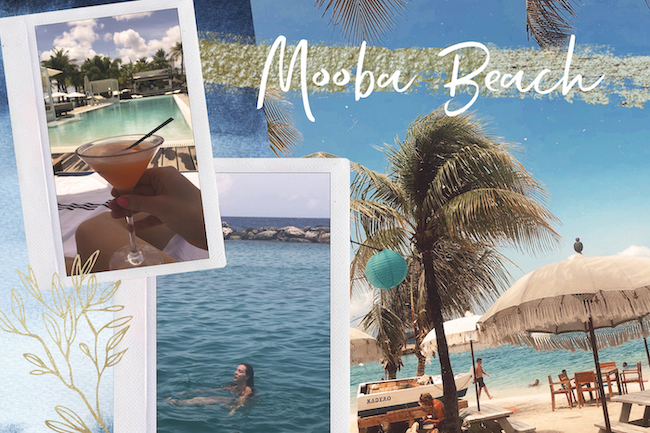 Hope you enjoyed reading and make sure to save this post (or pin it) for when you come to Curacao next!
What is the most important thing for you in a beach? (…Sand, water, amenities, price, view, restaurants, quiet, proximity?)