12 Calming self care ideas
I started this blog to be a little space of escapism, a spot where we can encourage each other to chase our dream lives through travel, wellness, wholeness, and moments of magic. Right now, for most people, it's hard to see the stars in this long, global night.
The anxiety can be paralyzing. Mental health and seeking to keep ourselves in a calm headspace has never been more important.
We can't help but wonder…where's the magic?
It still here. However, we're going to have to make some of it ourselves. I heard this quote the other day and loved it…"Spring has not been canceled". How we take care of ourselves and the people we love right now is what creates "joy perks" in the chaos. Not all good things have to be canceled…and staying positive is certainly not going to be one of them!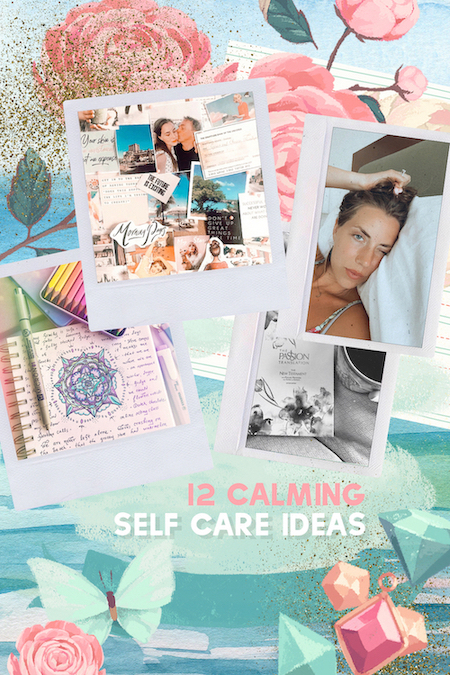 So today, I wanted to share a list of little things that bring me calm, or things that bring beauty and creativity into the everyday. It's the small stuff that make a big difference in presenting a sense of normality.
Read a book you loved as a child. "Chronicles of Narnia" gives me all the feels…there is something incredibly comforting about curling up with a book that stirred up such childlike wonder.
Walk outside, if you are able and allowed (and keep away from people obviously). We do about 6-12 kilometres a day. If you're able to get in the car and drive to a park, the countryside, the mountains, or a beach try to walk barefoot for a bit…this process is called "grounding" (or "earthing") and is the process of absorbing earth's free flowing electrons from the surface though the soles of the feet. We are electrical beings and it helps balance our own body's electrical field which is already flooded with excessive positive ions, which; in excessive amounts infects us with "dirty energy". Regardless of the science, everyone always feels better after a barefoot walk in the grass.
Try mandala journaling. I turned recreating this ancient symbol into an act of gratefulness. I bought a perfectly square, plain notebook for this season. Every day I draw a mandala and around it I write lists of things I have to be thankful for that day. If I wake up feeling a little down, I'll do it then, or sometimes I'll do it as a reflection as the day winds down. I listen to a happy playlist or worship music and just let myself doodle. I make certain to date it as, later this will serve as a remembrance of these crazy days we now live in.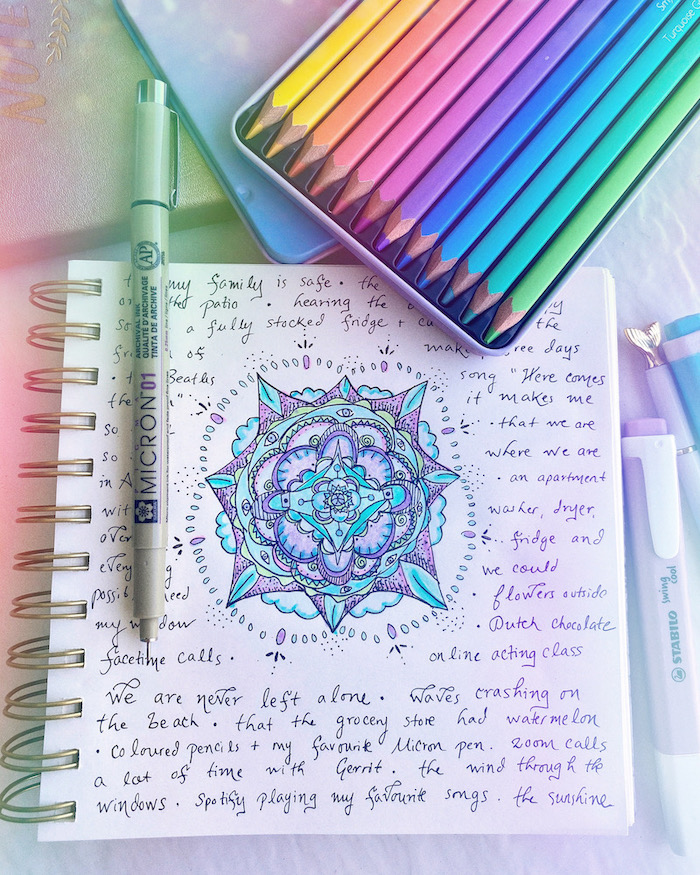 Make vision boards for the future. Dwelling on positive outcomes and visualizing it, is such a hopeful and happy thing to do. It's okay to plan a trip to Europe somewhere down the road. It's exciting to get ideas for the perfect kitchen and thinking of how you'll plan a future party. You're not shallow by thinking about things you're looking forward to. The future we visualize is the future we create. Release yourself from any guilt. We're all doing what we can. Go on Pinterest and just allow yourself to dream.
Pray. Just naming the things you're worried about is a physical act of release. When I give my anxieties to God, for me, it's swapping worry for peace. Do it out loud. This makes it real for your brain what you decided to RELEASE, because it's not classified as a thought, it's action. As we give up our fears, we can open ourselves up to RECEIVE (I believe, with God, it's always an exchange, we never leave empty), and then we can RETURN and integrate what we have just received into our lives. Release, receive, and return. The labyrinth of prayer.
Create a spa afternoon. If you have kids, get them to draw a list of spa services and store posters. Make an open sign and turn on your essential oil diffuser. Do facial steams, use homemade masks (just pure honey is one of my faves! It softens the face; so moisturizing!), and facial massages with a jade roller (or just your fingers). If it's just you and your significant other, light candles, get some zen tunes going, heat up some coconut oil and take turns with massages.
Play ocean waves as a soundtrack. Everybody has something that can help soothe frazzled nerves. For some, it might be birds singing, songs from childhood, classical music, or a white noisemaker. For me, it's ocean waves. If I can't go out and physically sit by the water, I will literally play YouTube videos just showing waves crashing or go watch Ryan Pernofski's IG videos. It's hypnotizing.
Make a list of books you want to read and pick one. Lately I've been into true stories. In the last week I just finished reading "My Friend Anna" (so fascinating) and "Atomic Habits", both books I loved.
Move the body – mental health is fuelled by physical health. I have an online workout community I've been part of for 9 years and I do almost all of my workouts in my living room (or hotel room). Of course YouTube has amazing workouts, or maybe it's time to dust off those old fitness DVDs we forgot we had.
Learn to watercolour. I recently bought a little set meant for travel and it's amazing what happiness a little water, a brush, and some colour can bring. I love splashing the corners of my journals with watercolours.
Play happy music. I'm constantly hitting repeat on the classic Beatles "Here Comes the Sun". I know it's the oldest, overplayed song ever, but it just makes me so happy. Bonus points for dancing. I don't know what it is, but embodying music through singing, or even just a few twirls, always make me feel better.
Dabble in a second language. I've been trying to learn my husbands first language for months, but I confess, I haven't been that diligent. Now I REALLY don't have an excuse.
Hope you enjoyed these ideas! Don't forget to FaceTime your friends and family, grab a cuppa tea and catch up with everyone you've been meaning to for ages. Connection is everything right now.
Would love to hear your calming self-care ideas in the comments! Stay safe <3