8 Desert-island beauty obsessions (a.k.a. products I cannot live without)
I always loved asking the "If you were stranded on a desert island, what would you bring with you?" question.
Definitely didn't think the whole 'stranded on an island' thing would ever become a reality for me, but here we are!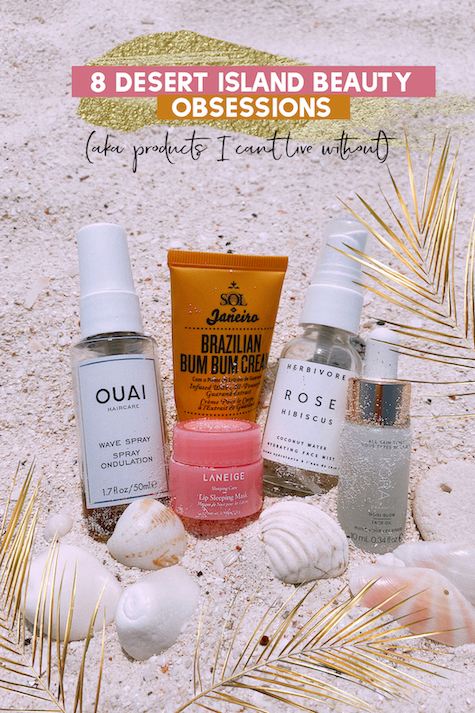 Maybe it's being a flight attendant and always having your bags packed "just in case" such and such happens, but I was actually impressed with how stocked my carry-on was. It was stuffed with vitamins, several books, many versatile outfits, essential oils, pens/highlighters, and most importantly, all the essential beauty products.
Sadly, I usually travel with just small size products and Sephora samples, as I rarely mix my travel bag products with my home stuff (why pack twice?!). While I am so grateful for what I have brought, my products are almost all gone, so I've had to get really creative making my own concoctions.
Today I thought it'd be fun to share the holy grail of products I am so happy I brought (however long they lasted!). Right now Sephora is having their spring sale, so here are my recommendations.
Facial oil/serum – I loved the Kora noni face oil (while it lasted). I used to use it under a moisturizer on my flights (it gets so dry), but here I would wear it morning and night just to keep my skin hydrated (it's VERY dry here). Now I take the same bottle and fill it with organic, liquid coconut oil and that is my new moisturizer.
Dry shampoo – I have been trying to wash my hair less with hair training (now is the perfect opportunity!) and this definitely keeps me feeling fresh in between wash days. Currently using Bariste.
An insane body moisturizer – Discovering Brazilian bum bum cream has been one of the best treasures. It is INSANE. It's a super intense moisturizer, more like a body butter, but leaves you feeling so moisturized for literally days. Ten out of ten.
Facial spray – I was using the Rose hibiscus spray by Herbivore before I ran out. When I wake up in the morning, giving my face a quick spritz is a bit of a "wake up" habit I have, but when I spend time in the sun I like having it around for moisturizing mist.
Lip balms – I brought Fresh lip balm (in caramel) for the day and Laneige lip sleeping mask for anytime (my absolute life long favourite). One of my pet peeves is dry lips so you can be sure I have lip balm on 100% of the time. I actually feel funny without it.
Wave spray – Since I most definitely didn't bring a curling iron, I usually rely on a sea salt spray. Recently I tried the Ouai wave spray and I AM HOOKED. After I wash my hair, I give it several good mists, let it half-dry, and then put it in a messy bun. When I take it out I have the most glorious beachy waves. Again, I am devoted for life.
Day face moisturizer with SPF – thanks to a facialist I go to in Vancouver, I purchased the Dermalogica moisturizer with 50SPF, which has been a God-send since – well, I seem to be roasting myself on the patio every day. Let's be real.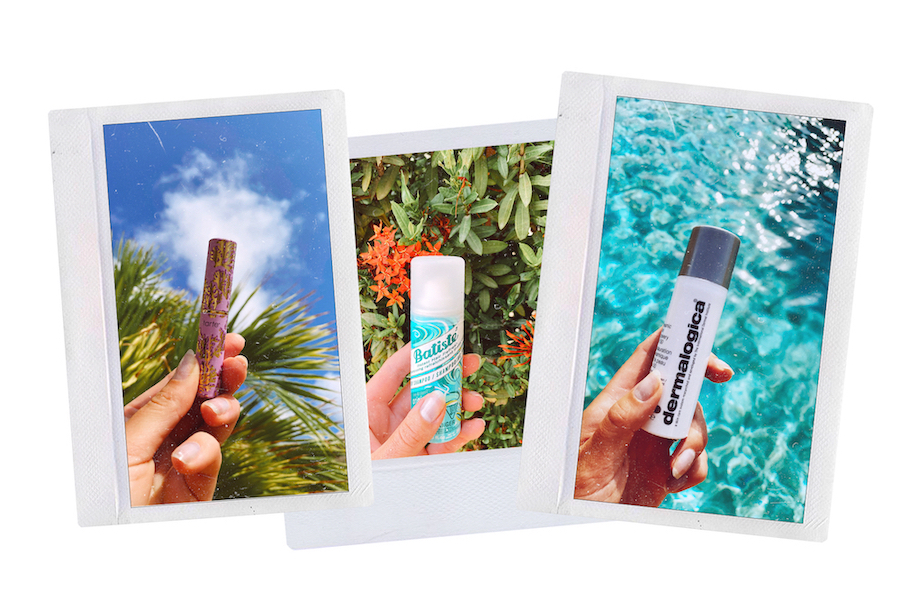 Lip balm tint – The one from Tarte is so nice. Not a big fan of lipsticks, so I usually stick to lip stains or lip balm tints.
The one beauty product I didn't bring and WISH I DID: a good night cream. I thought all my Drunk Elephant travel size products would be a good replacement, but nay, I ran out so fast!
What are the holy grail products of your skincare/beauty routine? I'm so curious to know, and get ideas for my next Sephora binge (like a hundred weeks from now, lol), so drop it in the comments!
Disclaimer: This post contains affiliate link(s), meaning, at no additional cost to you, I will earn a small commission if you click through and make a purchase. This funds my practise of always order an alternate milk at my coffee shop, which, as everyone knows, is .75 extra. So thank you. My promise is to only share products and brands that I am truly obsessed with. I will always give you my honest opinion and I share what I love.