The 6 most romantic restaurants in Aruba
There's a reason why so many couples honeymoon or celebrate their anniversaries in Aruba. It's is one of the most romantic places in the world.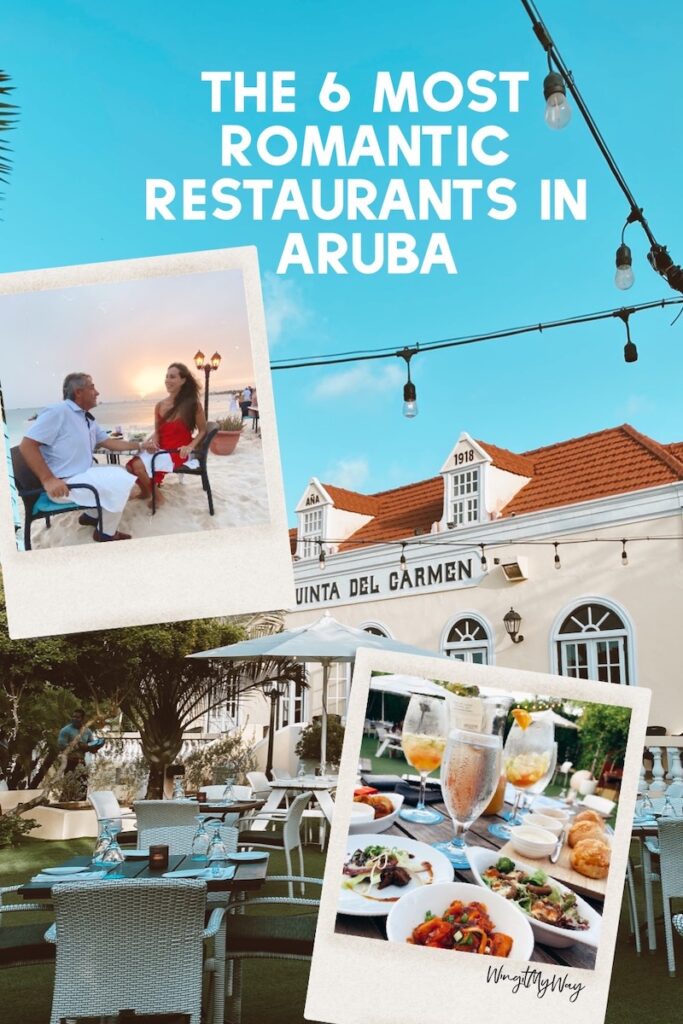 The powder white beaches. Aquamarine ocean so clear you can see the bottom. Long walks. The most beautiful sunsets you've ever seen. Watching baby sea turtles hatch and find their way to the water. Luxury boat rides. The famous private island with coral flamingos.
And of course…romantic restaurants.
My Dutchman and I love a good dinner out and while we have a lot of favourites, I wanted to share my top 6 ROMANTIC restaurants. You know, the ones with a VIBE…with a live violinist serenading you, watching the sunset as you toast champagne, curling your toes in the sand as while savouring blackened Mahi Mahi, and all while enjoying a delicious menu and excellent service.
Setting: the high rise area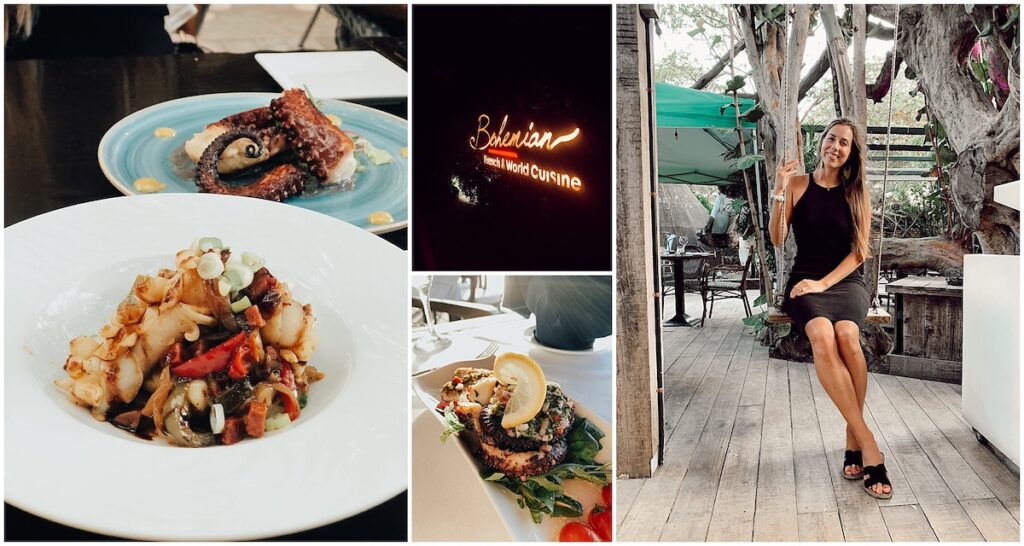 This is one feels like dining in a castle garden, with it's lush overhanging trees and stone paths to your table. There's even a wood swing in the middle!
We love this one because the ambience, live music, and the French inspired menu is 10/10 – but the service goes beyond that. Our experience has always been wonderful. My recommendations are Bone in Chicken''Coq au Vin', Braised Lamb Shank, calmari, and the Grilled Octopus.
Setting: beach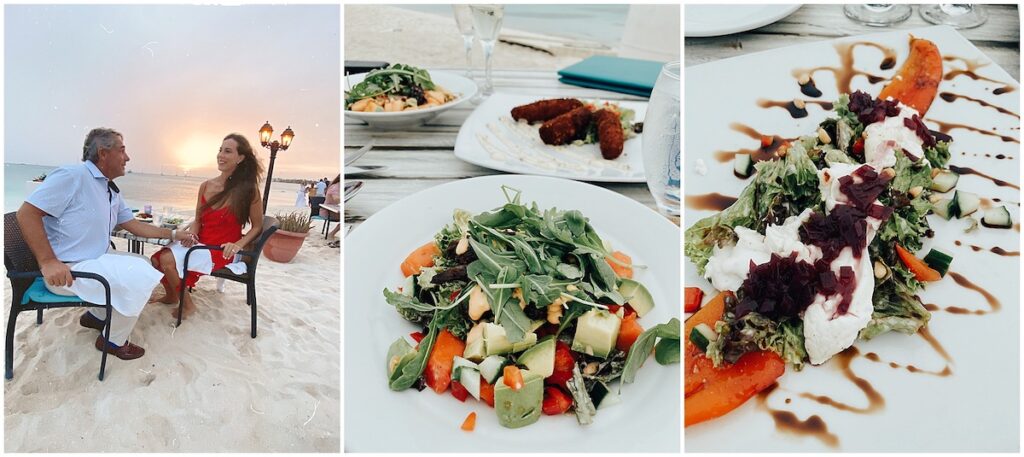 Their catchphrase is "elegant dining in flip flops" and that's exactly what it is. We went here for our anniversary this year and were thoroughly impressed. We sat on the beach by the water and watched a vibrant orange and pink sunset over champagne and goat cheese medallions, escargot, and prosciutto and melon. We also enjoy their skirt steak salad and it's always done exactly how I like it.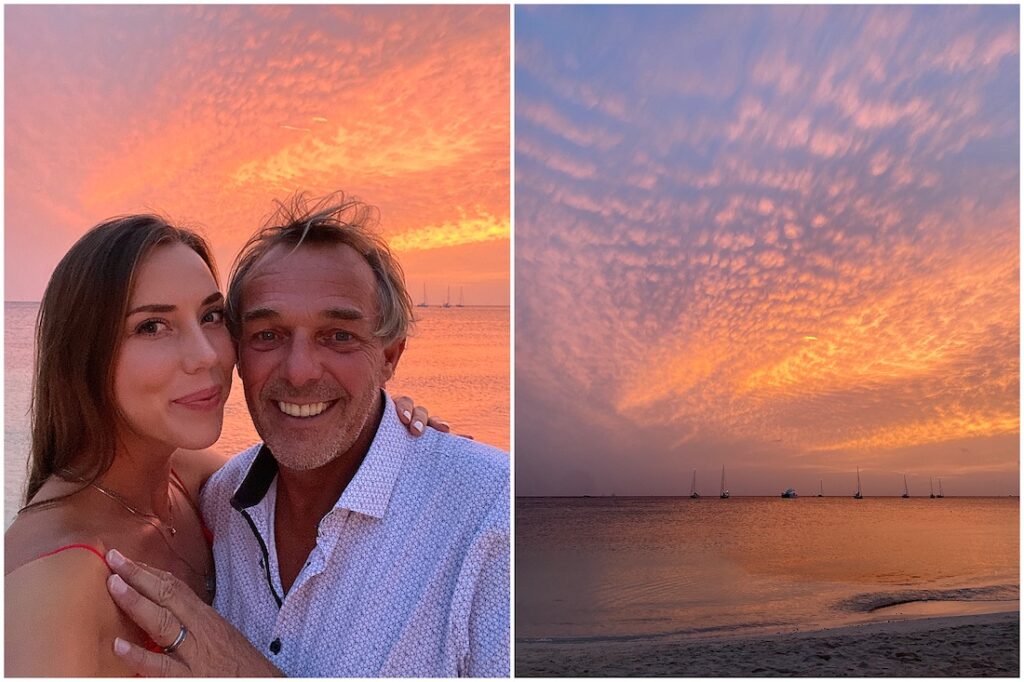 Setting: inside an inclosed garden (or dine in the old estate)
This place was one of the first places we started to frequent when we came to the island. Originally Quinta Del Carmen was an old plantation which is now a historical landmark. We have gone over and over and brought so many friends because you just can't go wrong! We always order off the tapas menu and have never had anything we don't like. A few of my "must order" choices are mushroom risotto, prosciutto and melon (I order this everywhere!), and the beet and goat cheese salad.
We ALWAYS order 1 (or 2) pitchers of the white sangria (although the red is good too). It is hands down the best sangria we've had on the island and our friends agree!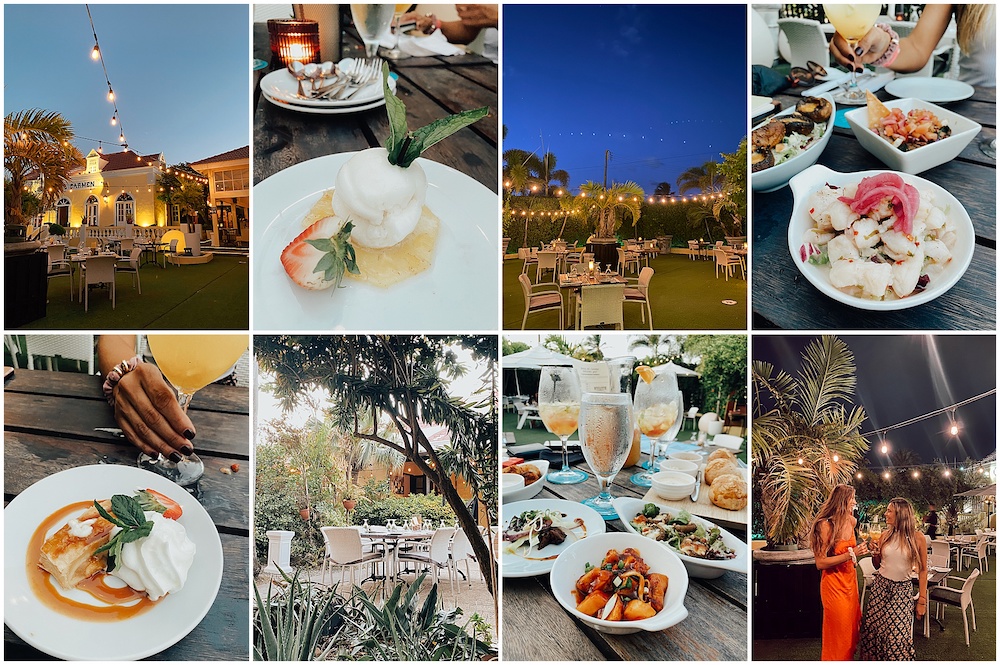 Setting: lit up pier over the ocean
To sit at a table over the water, under the moon and accompanied by the twinkling of candle lights is my idea of a perfect evening. Just add a dirty martini and I am a happy lady. I love how healthy and fresh everything is here (grilled, not fried) which makes me enjoy every bite even more. I especially loved the garlic shrimp, ceviche, and octopus.

Setting: beach
This is another picturesque place to take sunset pictures while toasting with some bubbles! This one is a little lower down on my list, because the food, while very delicious, didn't wow my tastebuds like other restaurants have. However, the location on Eagle Beach is perfect and the service is wonderful. With live music, glowing lights, and wonderful service it is still very worth being on the list. It also is one of the fastest meals we've had delivered to our table.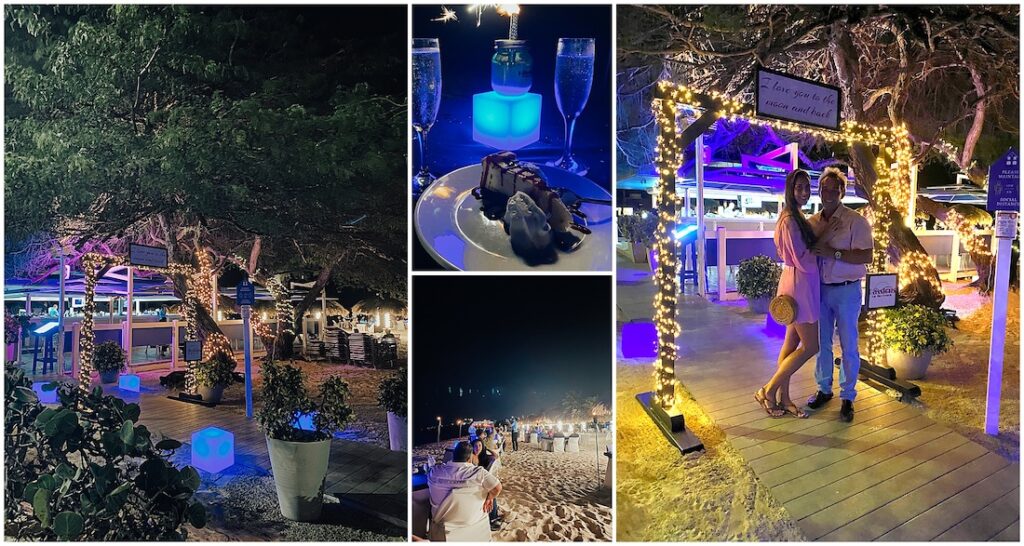 Setting: in the water or beside it
This restaurant is a bit more of a drive from the popular places that people tend to go in Aruba, but despite a little distance it is always booked full…especially their coveted tables that are literally in the water! I have yet to manage to snag one of these tables (most people do it months in advance!). This restaurant is about the experience…it is beautiful, the service is fairly good, the view is stunning, and the food is good. The menu is priced fairly high for the quality to match (in my opinion), but the experience was still well worth it.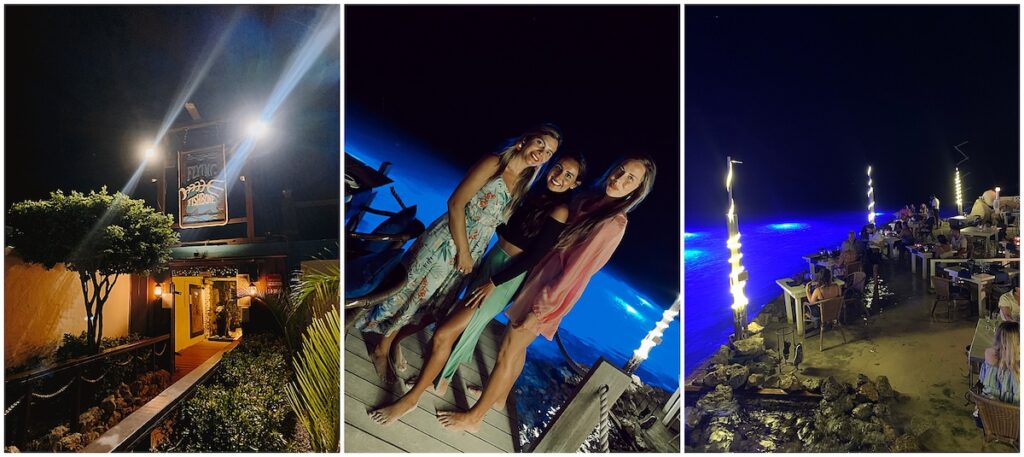 Bonus restaurant tip! Here's a "romantic" place to NOT bother going…
Madam Janette – this place is overrated. I think it used to be good, but then became an "it place" and they got sloppy. I love the ambience and the beautiful music, but the service was the worst I've experienced on the island. The staff was slow, rude, and made me feel like I should apologize for ordering. Most importantly, while the menu looked good on the menu, it was terrible. My steak was rubber. I don't think anyone in our party could finish our meals. However, in their favour, they do have an extensive beer collection they are famous for if you're into that sort of thing.
Hope you enjoyed this post! Pin or bookmark it if you come to Aruba!
I'm curious, what makes a dining experience "romantic" for you? Let me know in the comments!