Last minute holiday gift guide
We have 9 more days to shop! So I'm sharing below some of my favourite thoughtful gifts for the holidays – cheers (with my cup of hot cacao)!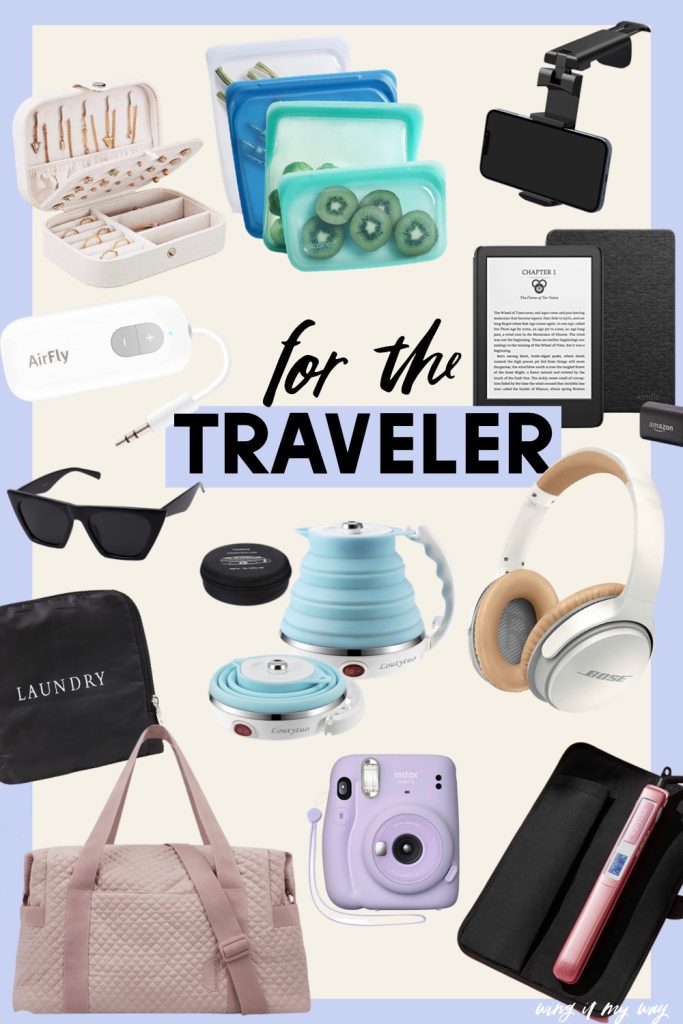 Airplane Phone Stand Holder is a smart little gadget so they can watch your downloaded shows on their own device. I always see people craning their necks in the plane or holding their phone eye level for hours at a time and this fixes both these problems!
Stasher Bags are a go-to for snacks, packing small items, or items that can leak.
Travel Jewelry Box for the important pieces.
Kindle so they can bring 100 books with them each trip! I got a Kindle about a year ago and it was one of the best purchases I have ever made. I still love real books, but for travel this is so worth it.
Airfly is a gadget that allows the user to wear their own wireless headphones or AirPods while watching the movies on the planes. Never wear those uncomfortable, cheap airline headphones again!
Bose Headphones will always be the best investment for headphones and make someone very happy (also on my gift list!)
Travel Foldable Electric Kettle is for the flight attendant in your life (or constant traveler). I have trust issues using a coffee pot for my tea, oatmeal, and soups on my layovers all the time so this is also on my list! lol
Retro Sunglasses are a go-to classic. I always keep this pair in my travel bag.
Laundry Bag is always an essential.
Weekender Bag is the perfect size for throwing under the seat. Bring a carry-on and they can pack a lot without checking a bag.
Fujifilm Instax Mini 11 Instant Camera to capture all the memories in style.
Flat Iron Heat Resistant Pouch to travel with hot hair tools.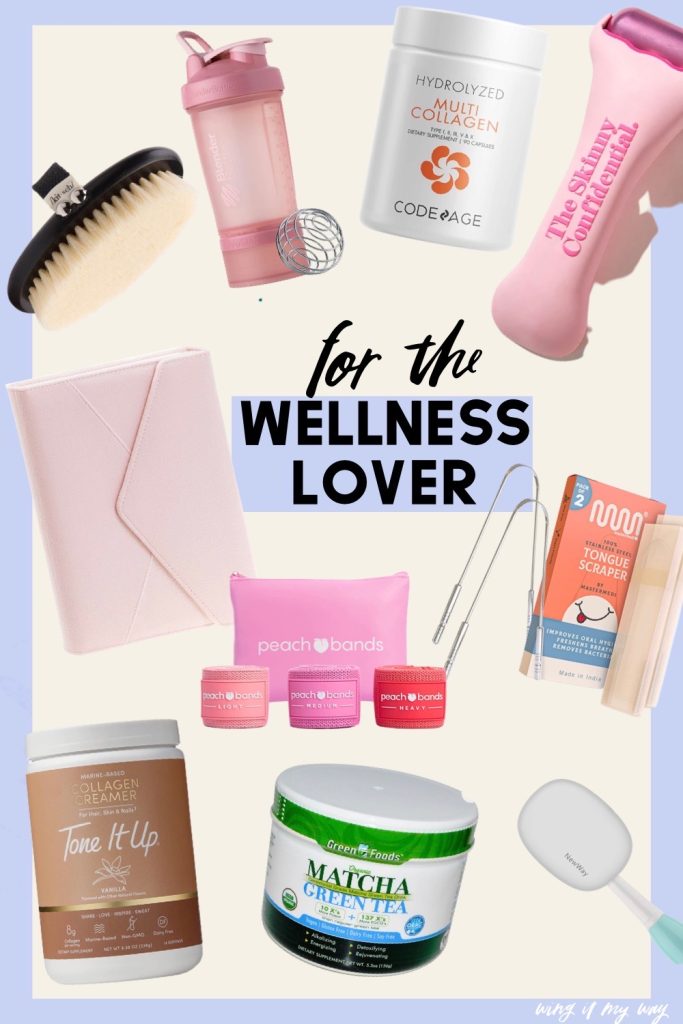 Drybrush because it's one of those incredible wellness habits that everyone wants to start at New Years. I've been doing it for years and I am sold for life.
Blender Bottle for taking supplements or powdered drinks/protein shakes on-the-go.
Hydrolyzed Multi Collagen because quality matters with collagen. This one features a high-quality blend of grass-fed beef, chicken, wild caught fish, and eggshell collagens, providing collagen Types I, II, III, V and X, as well as additional Organic Ashwagandha and Amla Berry extracts.
Skinny Confidential Ice Roller is the only non-Amazon item but it deserves to be on the list! While many people use this for lymphatic drainage, reducing puffiness, and the slimming effect it has on the face, I use it for headaches and muscle tension. Compared to all the other ice rollers, this one doesn't drip water (and it's also very cute!).
Velvet Notebook for capturing dreams, thoughts, lists or morning pages.
Peach Bands are a great addition to the home workout basket (I always throw one in my suitcase too!).
Tone It Up Collagen Creamer is lovely in coffee, but I always add into my Ceremonial Grade Matcha, which is the only kind of matcha I buy now. You could also pair this with a little matcha kit complete with the whisk and bowl.
Tongue Scraper for the person who loves a holistic morning routine.
Mini Toothbrush Cover (UV-C Led) for keeping your toothbrush hygienic, clean and keep everything tidier when traveling. There's a lot of germs from toothbrushes, so this is something I think everyone could use.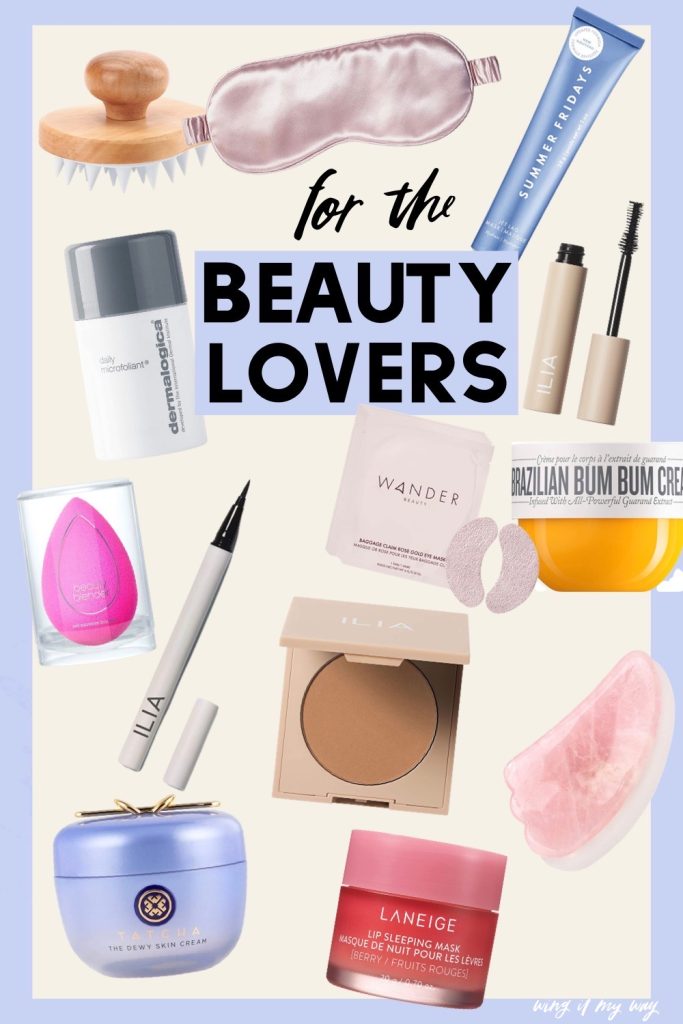 Summer Fridays Jet Lag Mask is one of my favourite creams to bring for traveling. It's thick and ultra moisturizing, it just gives that glow.
Slip Silk Eye Mask isn't the cheapest brand on the market, but it's luxe, gorgeous and it's just a very "Breakfast at Tiffany's " vibe.
Shampoo Massage Brush is a shower mainstay and the reason I swear my hair is growing thicker. It boosts the circulation in your scalp and really gets your roots clean. I'm sold for life.
Dermalogica Daily Microfoliant is a daily go-to. Gentle, but still does the job. I've been using this for years with no signs of stopping.
Beauty Blender is always a winner for the beauty guru…there's just something about the way it applies makeup over a brush applicator. It's just glowier.
Ilia is a brand I'm newly in love with (thanks to a rec from my sis!) and now I'm a big fan of the clean beauty brand. Their bronzer is my obsession…it's the PERFECT shade! I also love their eyeliner and mascara. This is a great option for the gal who's looking to swap to cleaner brands.
Wander Eye Masks depuff the eyes like magic.
Laneige Lip Sleeping Mask has been a staple of mine for years. Is it a lip gloss, mask, tint, or conditioner? It's everything. Anyone on your list will be in love.
Bum Bum Cream for the body cream of all body creams.
Tatcha Night Cream is one of those indulgences that will make this one of the best gifts! It's lush and luxe, but it also delivers. This is a heavy cream for when my skin needs extra TLC. It hydrates and plumps with a special blend of Okinawa algae and hyaluronic acid. It's magic.
I hope this was helpful! Happy shopping and Merry Christmas!
Charissa <3
Disclaimer: please know that these are Amazon affiliate links, so at no cost or inconvenience to you I receive a small commission so that I can afford to buy my lattes with oat milk instead of dairy.