2022 Travel essentials recommended by a flight attendant – Amazon haul
Hello friends! I have been wanting to do an Amazon recommendation post for a while, but I wanted to try out some new products and wait until I was back in the air to test them out. Now that I'm back in the work force (yay! so good to be back! Will do a catch up post soon!), let me share some of my best travel recommendations (some tried and true and some new favourites)!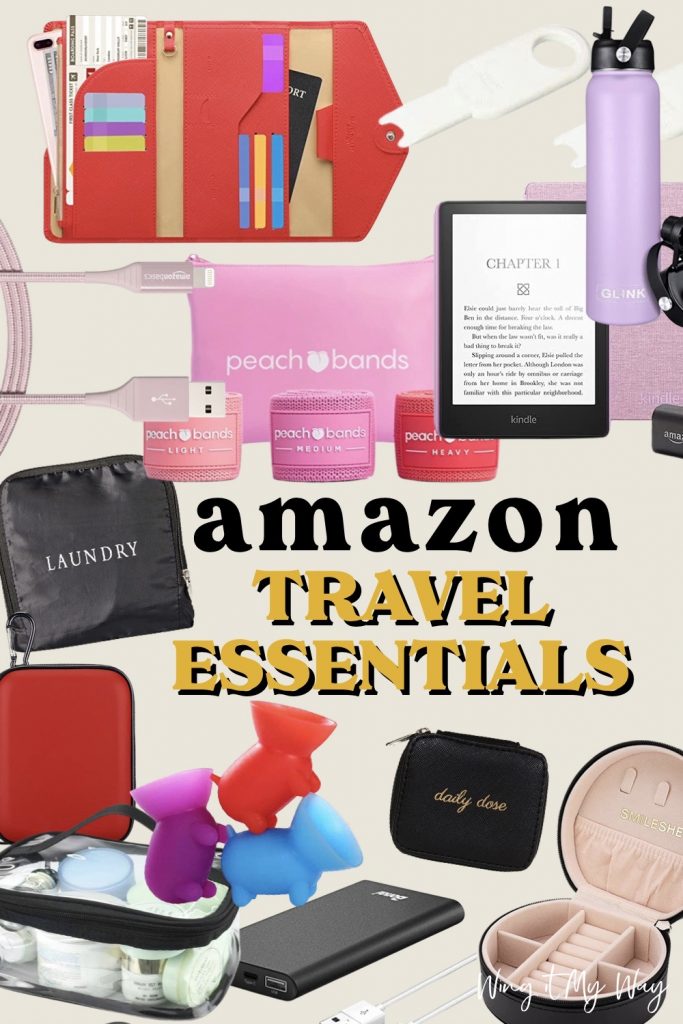 Before I share, please know I have included links to both Canadian Amazon and US for your convenience. I find it annoying to discover a product that sounds amazing and not being able to buy it because I can't find it in the Canadian store. Also, full disclaimer: please know that these are Amazon affiliate links, so at no cost or inconvenience to you I receive a small commission so that I can afford to buy my lattes with oat milk instead of dairy.
Alright, let's jump in, shall we!
Vitamin case
This little case is the perfect size for my emergency melatonin, painkillers, iron supplement, and vitamins. I love how it says "daily dose" in gold letters. It's darling.
CA: Click here for vitamin case
US: Click here for vitamin case
Jewelry case
This is a new purchase for me. When I travel there is nothing quite so frustrating as untangling necklaces or losing my other earring in my toiletry bag. Now I have it segregated and it's just the perfect size case for the rings, earrings, or necklaces I want for that perfect night out or photo op.
CA: Click here for jewelry case (similar, square)
US: Click here for jewelry case
Phone stand
When you're on a plane and you've downloaded Netflix on your phone, it's annoying having it slip on your tray table or having to physically hold your arm up for two hours. Attaching this suction cup, very cute Piggy to the back of the phone saves your sanity and puts a smile on your face.
CA: Click here for phone stand
US: Click here for phone stand
Peach booty bands
I've always taken these on layovers. They're small, you can throw them in your bag and if there's no gym…there's no problem. Most of my hotel workouts are in my room and these bands will often make an appearance. These bands come in a set of three, in cute colours, but they are intense. To be real, I'm using the lightest one right now with aspirations of working my way up.
CA: Click for booty bands
US: Click for booty bands (similar product)
Travel wallet and passport holder
Recently, my passport holder bit the dust. I loved it because it was cute, but it was small. This time I went for something that held more than just a passport and a couple of cards. This travel wallet holds multiple cards, tickets, a pen, money (including coins), and even has a spot for a phone SIM card. I love that it is also RFID blocking for extra security. And there are SO MANY colours to choose from!
CA: Click here for travel wallet
US: Click here for travel wallet
Hard drive or charger case
I like things contained. This case can be used for your phone charger and cords, but I just use it to carry my back up charger. I don't like it floating around loose.
Red holder for charger
CA: Click here for tech case
US: Click here for tech case
Portable charger
Speaking of said charger, I got this charger from a YT rec (I don't remember who unfortunately) and it gives me peace of mind knowing I'm never going to be stuck with a dead phone.
CA: Click here for portable charger
US: Click here for portable charger
Black disposable masks
Nowadays, it's impossible to mention imperative things to pack without thinking of a mask. The disposable ones aren't as cute, but I find they're easier to breathe with on longer flights. I think the black ones are more "chic" than the blue ones, but they're basically the same. I always have many extras in my bag.
CA: Click here for masks
US: Click here for masks
100 Books (aka my Kindle)
This is everything. I never thought I'd be this person, but here we are. It's amazing to know I have a 100 books with me…I just throw my Paperwhite Kindle in my purse! I always have a good book with me now… if I finish it, I just get another one on the spot! The most life changing purchase I've made, especially for travel.
CA: Click here for Kindle
US: Click here for Kindle
Laundry bags
When you're living out of a suitcase, things can get…well, stinky. It's imperative to have a bag that just "seals off" your dirty laundry from affecting your other clean items you still have to wear. These bags have saved my clothes, as well as keeping me organized when I unpack. No more rifling through my suitcase holding up items and sniffing them to see if they're clean or not, lol. This also works great as a shoe bag.
CA: Click here for laundry bags
US: Click here for laundry bags
Long USB cords (6 feet)
Simply put, these are lifechanging. Sometimes there aren't outlets right next to the bed or maybe your cord is just so short that you're kind of hanging off the bed to look at your phone AND charging it at the same time. NO MORE. I buy the 6 footers and I'm not going back.
CA: Click for USB cord
US: Click for USB cord
Big blanket scarf
I ALWAYS, ALWAYS travel with big scarf. It is my everything, my secret to happy, comfortable, cozy travel. It is my pillow, blanket, and style accessory. I will never not travel without a big blanket scarf.
CA: Click for scarf
US: Click for scarf
Clear toiletry bags
I prefer to have a clear bag situation. I can see what's there instead of digging around with my hand going by feel. I'm not into it. These bags have been loved to death, so I'm going to be needing new ones soon.
CA: Click here for toiletry bags
US: Click here for toiletry bags (similar)
Stainless steel Glink water bottle
Staying hydrated while on a plane should be the mission of your flight. However, fill this baby up PAST security and NOT ON THE PLANE. I repeat, do not drink from the plane! In all my flights I have worked on, I have not once drank from the plane (unless heated!) and I never will. I love the purple colour of this stainless steel one (I got the 32 oz one), but there are so many beautiful colours.
CA: Click for bottle
US: Click for bottle
Pop can opener
This one if for any flight attendants who may be reading. I love growing out my nails and so I have to use this tool to keep the nails from breaking. One or two cans isn't a big deal, but opening 100 in a row is detrimental. This is a massive nail saver (and keeps the fingers from getting sore).
CA: Click here for pop can opener
US: Click here for soda can opener
There you have it! Everything in this post are things I use regularly and that have given me so much value, but I have so many more life changing travel recommendations for you! So I will definitely be sharing more soon! <3 Happy travels!
What are your travel essentials?